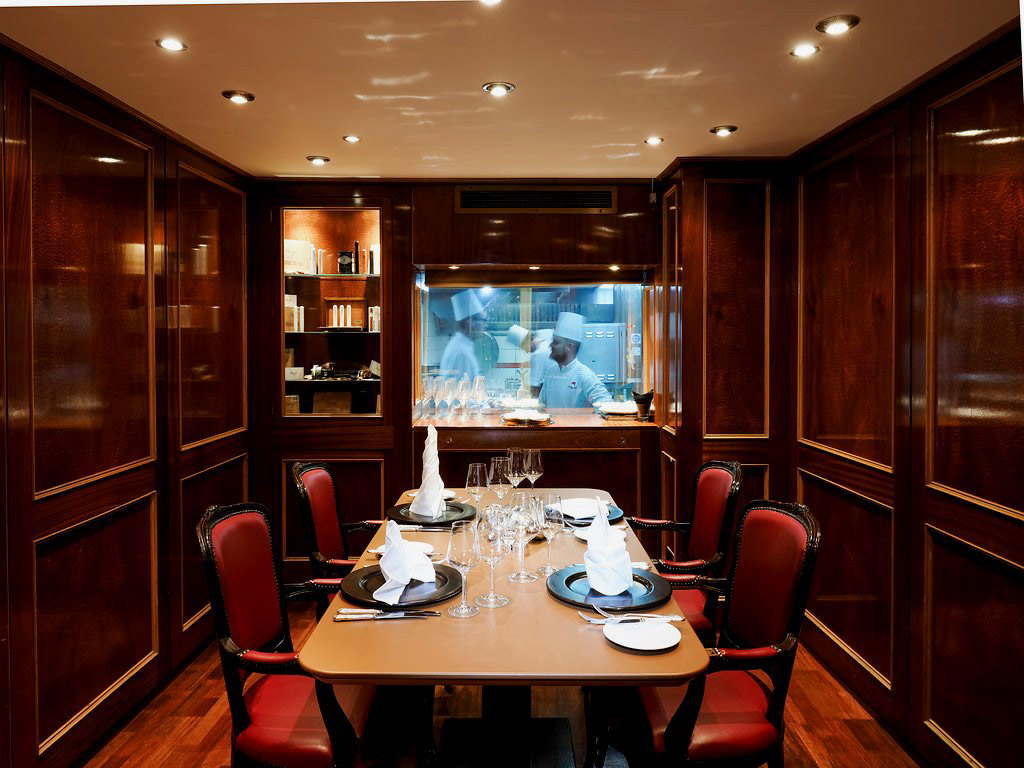 Mosimann's
Visit Date: 26/04/2018
Score: 41/50
HEADED UP BY ANTON MOSIMANN OBE, MOSIMANN'S HAS BEEN A FAMILY RUN BUSINESS FOR OVER 30 YEARS
Anton was born in 1947, the only child of Swiss restaurateurs in the Jura mountains.
Anton Mosimann spent his early years in Nidau, near Biel helping his parents run their own restaurant where he developed both a love for food and a desire to become a cook. The first taste he clearly remembers is that of Emmental cheese.
"It was so tasty and so different from my previous food of vegetables and cereals."
He started his apprenticeship at a local hotel at the age of fifteen, and at the age of twenty-five became one of the youngest Chefs to receive the coveted Chef de Cuisine Diploma.
At the age of 28, he was appointed Maitre Chef des Cuisines at the Dorchester Hotel in London – the youngest ever to hold this position. During his thirteen year tenure he was awarded two Michelin stars; the first time such accolade had been given to a hotel restaurant outside of France. In 1988 Anton acquired a Scottish Presbyterian church and set about creating Mosimann's Club.
He also established a catering company, Mosimann's Party Service, for which he has held the Royal Warrant of Appointment to HRH The Prince of Wales for Catering Services since 2000. In addition, he acquired a converted Victorian school in London's Battersea and created The Mosimann Academy, with a demonstration kitchen featuring an enviable list of cookery courses and one of the world's most extensive libraries of over 6,000 cookery books dating back to the 15th century.
"Food was the earliest influence on me as a child. I still remember the wonderful smell of apricots in season… it was fantastic… coming home from school to find my parents in the kitchen cooking, it all smelt so good. Theirs was basic cooking with seasonal produce. We have lost all that now, products are available all year round and I feel that's a pity, as waiting makes it more worthwhile."
PHILIPP AND MARK, THE SONS OF ANTON MOSIMANN, JOINED MOSIMANN'S IN 2007 AS JOINT MANAGING DIRECTORS OF THE FIRM.
Philipp joined Mosimann's in 2007 after three years in Switzerland, where he was Deputy Chief Operating Officer for Moevenpick Restaurants, after having worked for Equinox Complex of fine-dining restaurants at Raffles City, part of the former Raffles International group. Philipp graduated from Lausanne Hotel School in 2000 and received "Alumnus of Year 2015". He has worked in the Hotel Nassauerhof in Wiesbaden, Germany, Hotel Crillon in Paris, Villa Principe Leopoldo in Lugano Switzerland and the Mandarin Oriental Hong Kong. Philipp has also been running ultras since 2003 and has completed the following 250km foot race Racingtheplanet Dessert and Roaming Races: Gobi, Atacama (Team Commonwealth 1st position), Sahara, Vietnam, Namibia & Nepal. He recently also completed the prestigious 166km, 9500m positive altitude non stop Ultra Trail Mont Blanc Race in 2014 & 2015.
Mark joined Mosimann's in 2007 after four years in Shanghai where, as the General Manager of the highly-regarded Laris restaurant at the prestigious Three on the Bund complex, he took the company from pre-opening to winning the 2005 and 2006 "best restaurant of the year".
Mark is also a graduate of the Lausanne Hotel School and has extensive international hotel and catering experience at world-renowned establishments such as the Sheraton Park Tower in London, the Villa Principe Leopoldo in Lugano, Switzerland, the Palace Hotel in Beijing and the Campton Place Hotel in San Francisco.
THE HISTORY OF FOOD IN BRITAIN DIVIDES NEATLY INTO TWO PERIODS – BEFORE MOSIMANN AND AFTER MOSIMANN." LOYD GROSSMAN
At Mosimann's, cuisine takes centre stage. Our motto of "passion for excellence" has characterised Anton Mosimann's revolutionary innovations in fine food since the earliest days, and remains superbly evident in every flavour that graces the palate in a Mosimann's culinary experience.
In the past "good food" and "food that is good for you" were seen as mutually exclusive: food could be either one or the other but never both. The basic principles of good cooking and Anton Mosimann's style of cooking have always been to use the freshest ingredients and prepare them in a way that brings out their flavour and goodness. We do not use oil, butter, cream or alcohol and have reduced the use of salt and sugar. These ingredients undoubtedly have their rightful place in good cooking but they can have deleterious effects as well. When possible, we use low fat equivalents of traditional ingredients – natural yoghurt, fromage blanc, tofu; and our sauces are based on pure stocks made from meat, fish or vegetables. As a result the visual effect of our dishes are lighter, clearer and the natural flavour is not overpowered. "Nothing comes solely by chance."
The all-important qualities, Mosimann never ceases to point out, are planning, self discipline, energy, hard work and luck of course.
ON 1ST OCTOBER 1988, MOSIMANN'S OPENED ITS DOORS AND WE HAD WELL OVER 1,000 MEMBERS IN JUST A FEW MONTHS, MANY OF WHOM ARE STILL WITH US TODAY.
Since opening our doors, we have entertained royalty from over a dozen different countries, Heads of State and a growing list of celebrities. There have been so many special and memorable events, but one of the recent highlights was most definitely when TRH The Duke and Duchess of Cambridge came for a tasting at the Club, as we had the honour of cooking their wedding dinner at Buckingham Palace.
In 2000, Anton Mosimann received a Royal Warrant of Appointment from HRH The Prince of Wales for catering and today we cater for anything from a quiet dinner for two to a royal banquet for over 1,000 guests – not to mention HM The Queen's Diamond Jubilee luncheon at Westminster Hall, quickly followed by London 2012 and Sochi 2014 Olympics.
We were extremely proud to celebrate 30 Years of Mosimann's in October 2018 and are looking forward to the next 25 years.
London,
SW1X 8JL