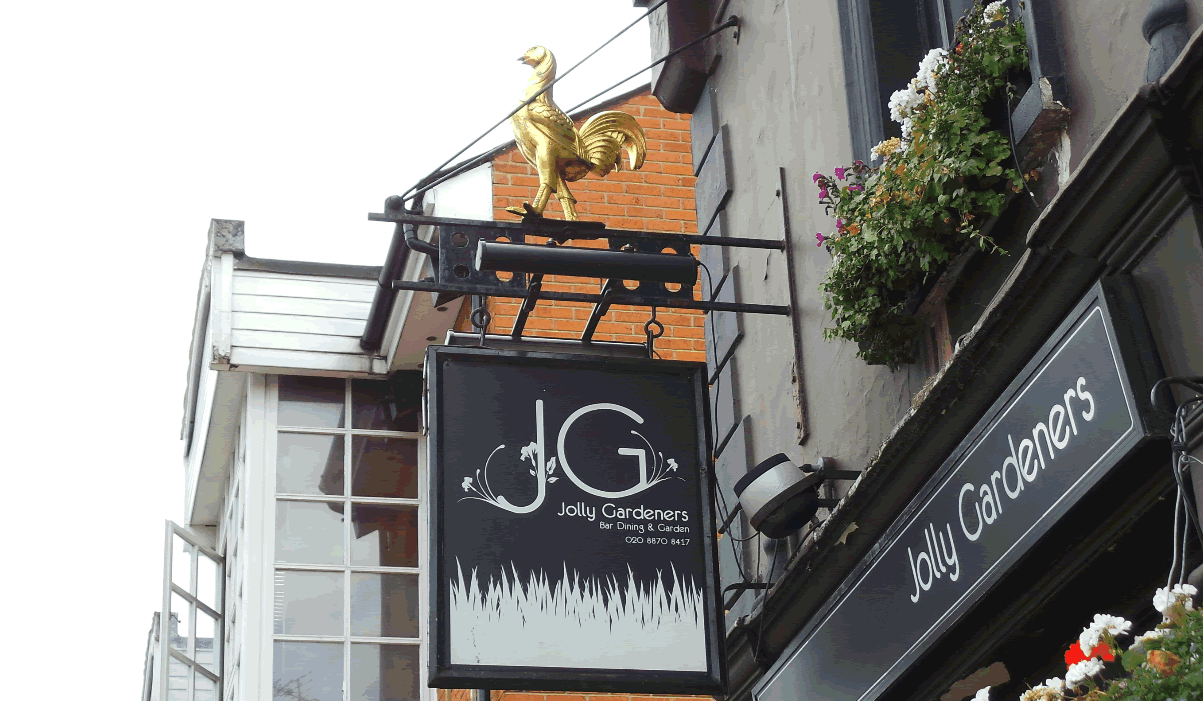 The Jolly Gardeners
Visit Date: 13/10/2016
Score: 36/50
Trying to put pins into our BTNDC map outside of London is pretty tough – Earlsfield is just south of the river and offers a very different night. However when researching into The Jolly Gardeners you understand why BC picked it….. food by the 2010 MasterChef champion no less.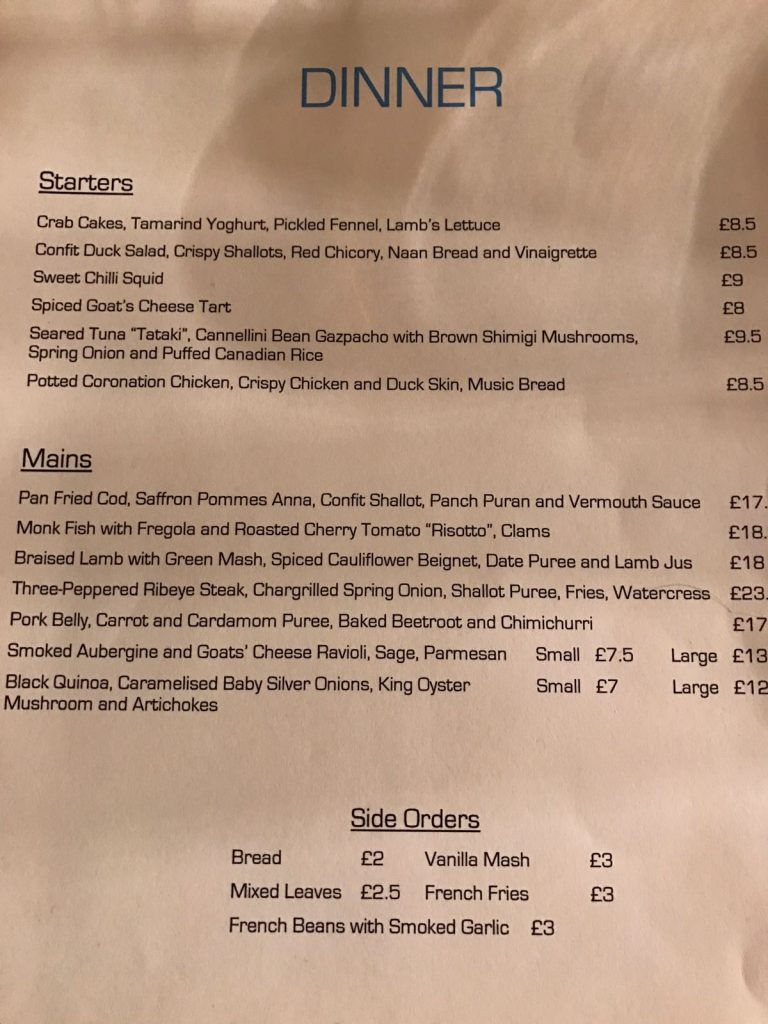 On the main road in a trendy suburb it looks like any normal pub. And kind of is. However with the big blackboard outside clearly stating 'MasterChef Champ….' it offers a pub version of fine dining….. oh and a PokeStop!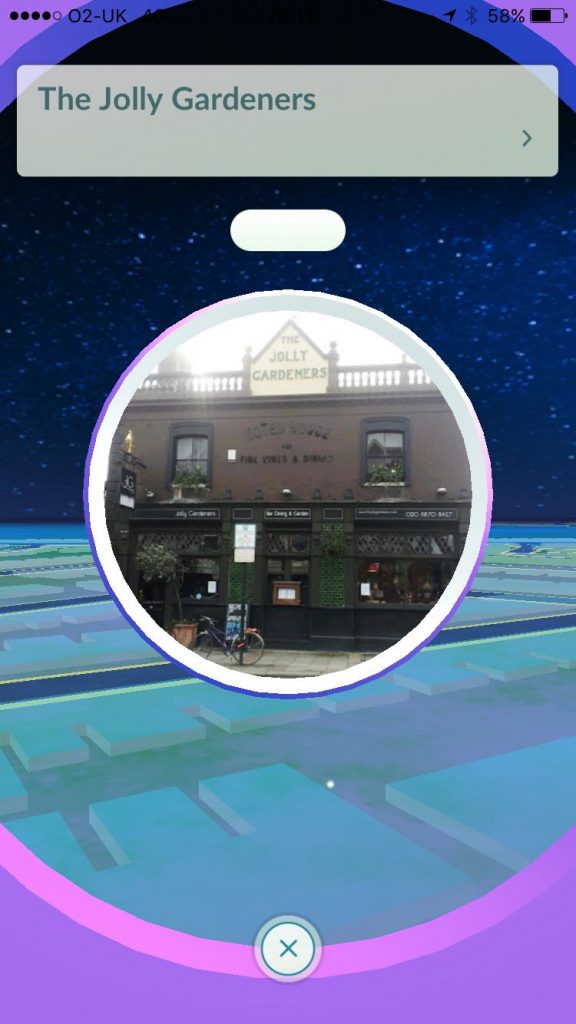 Surprisingly quiet for a Thursday night, the near empty front of house is a normal bar offering normal alcohol, but with an exceptionally tasty sounding array of bar snacks…. food is clearly at the heart of The Jolly Gardeners and fingers crossed it delivers…. and it did almost immediately as we were given complimentary mini crab cakes as a welcomer…. delicious with an unusual Asian spiced influence.
Led into the near empty restaurant out the back, you continue with the casual relaxed atmosphere, a million miles away from the posh nosh just over the river. Probably with around 60 covers, having only 2 occupied at 7.30 almost worried me…. surely the secret is out after 6 years?
It was set up more as a pub restaurant with hard wooden chairs, uneven table and super friendly and smiley waitresses. However the menu sounded great…. so great that we ordered for our absent fifth member too and duly ate for him, it'd be rude not too.
The Starters arrived beautifully presented… absolutely in fine dining style.
Karl and I had ordered the spiced goats cheese tart. My esteemed colleague wasn't happy that it didn't look like a tart however, he likes the tarty look I guess?, it looked more like a mini magical forest. Again a difference of opinion, but I thought it was very tasty; the bed of chutney too sweet perhaps.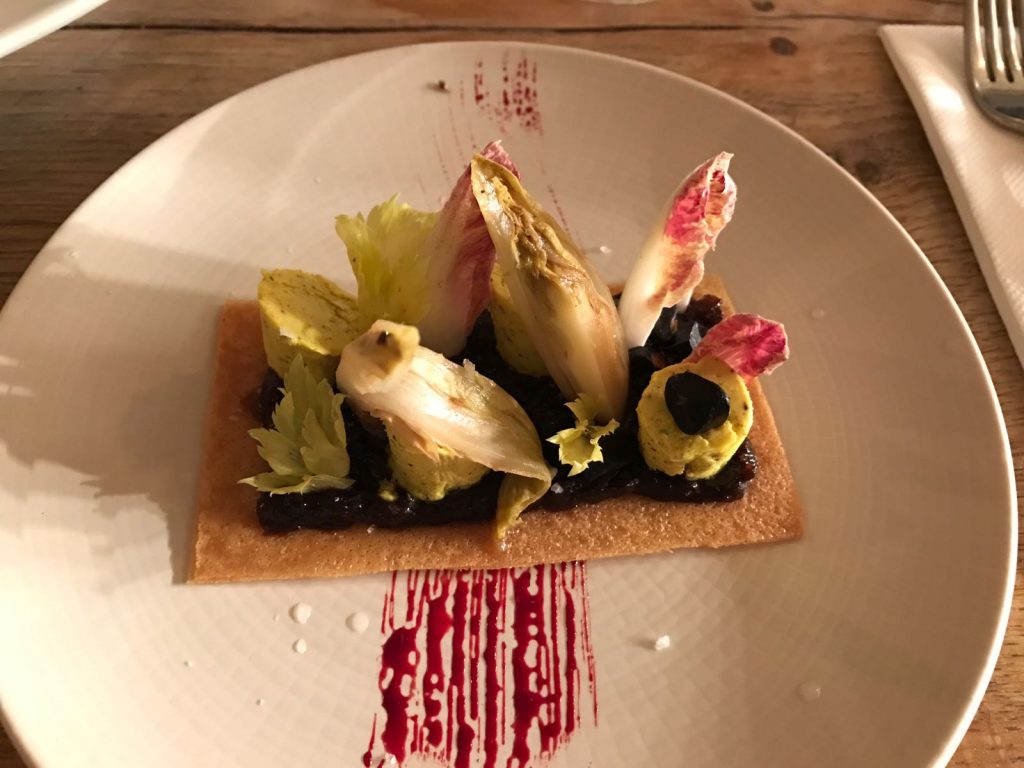 The sweet chilli squid was nice but needed to be more spicy, and probably come as a smaller portion.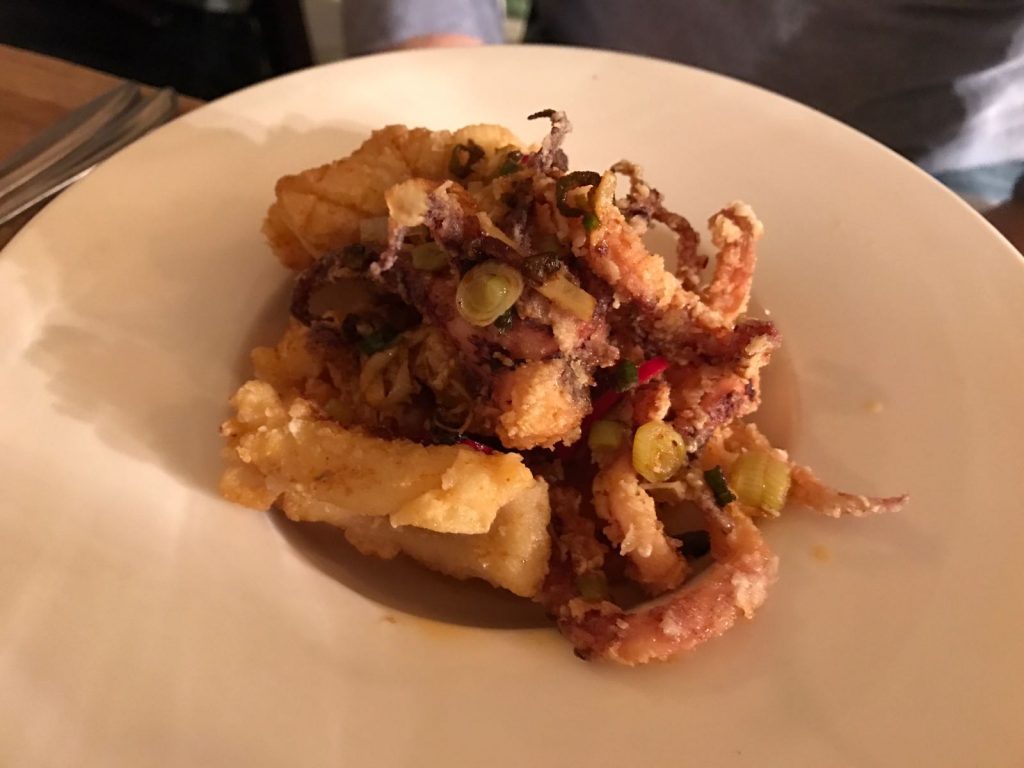 Tuna tataki came highly recommended. The tuna was delicious apparently, but BC was not sure about the rest of the dish. DC loved it however and the cannellini bean gazpacho was liked by all.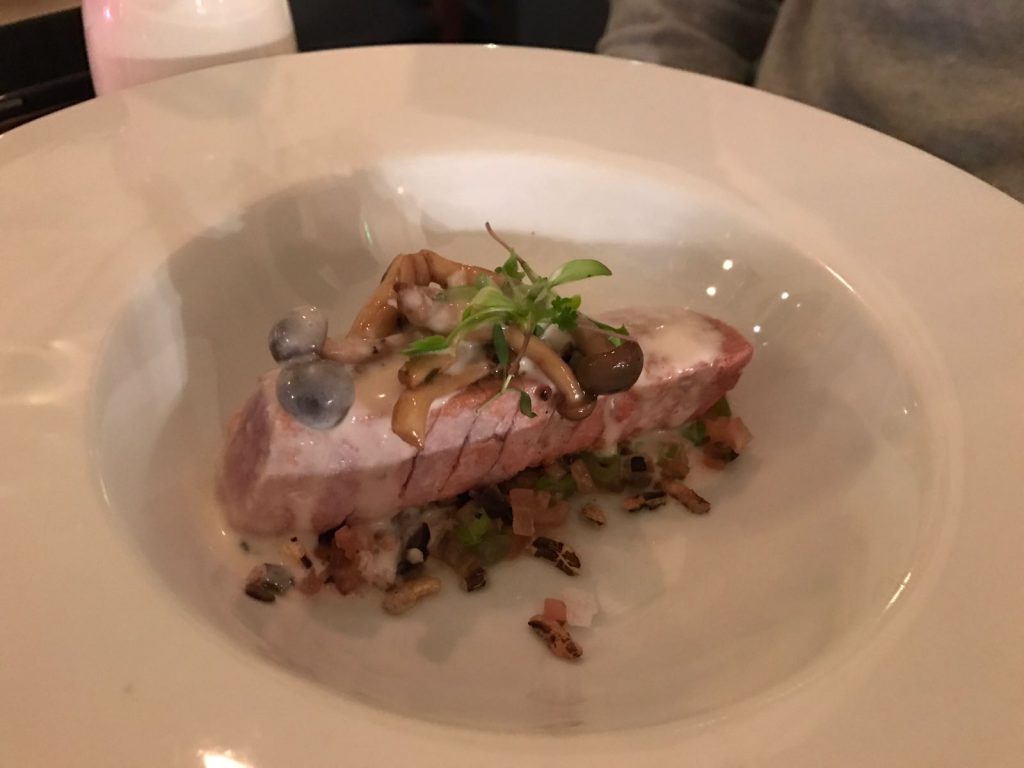 Our fifth member unknowingly ordered two further dishes to taste. A duck salad which was nice but too overpowered by the leaves and chicory…. the naan bread was a tasty accompaniment.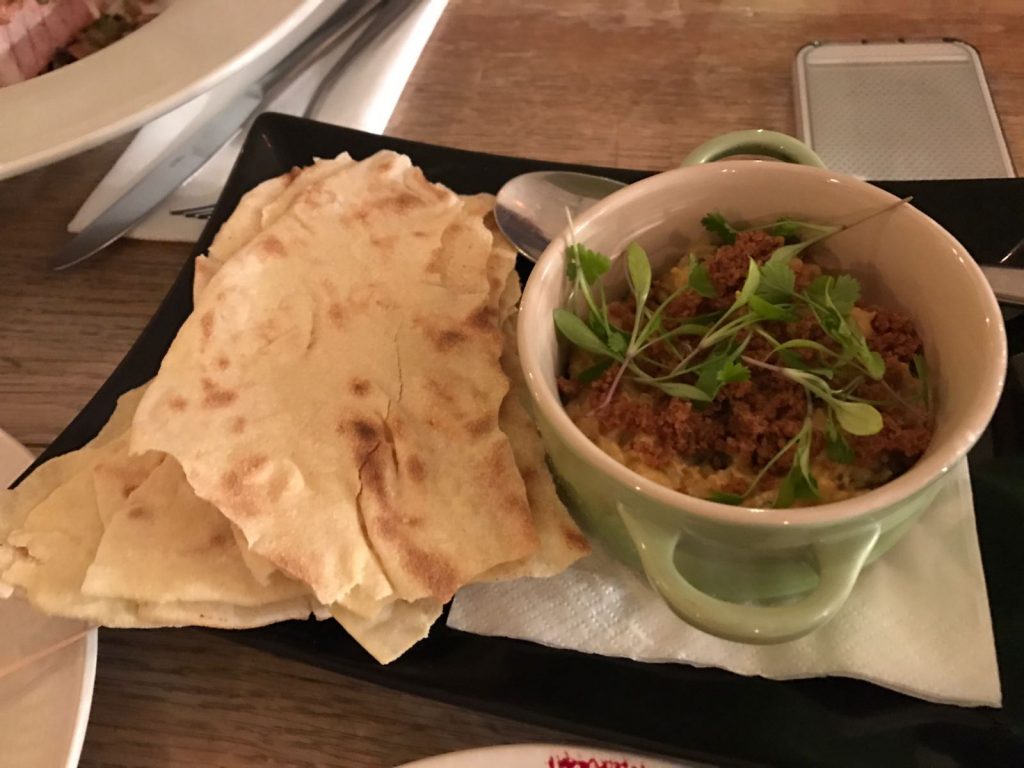 Also a potted coronation chicken, which was loved by Shaf but not special in others' eyes.
All plates and pots were completely finished and empty, which again tells its own story.
At this point we were asked to order the mains…. maybe in an attempt to slow the evening down? as it continued to be a very chilled and relaxed affair.
The wine list was also good without being exceptional or pompous as you may find elsewhere.
The main courses came as pub portions in general…. huge! Some too big probably which went against the grain I imagine.
An absolutely perfect Pork belly for me which I could have had more off in all honesty. Perfectly presented. Awesome crispiness. Lovely spicy kick to it with amazingly cooked beetroot. Really cooked well. My french beans side were also very tasty although differing in consistency.
The shared accompanying jus was equally good. Finally, and not to be outdone, the chips came with a naughty saltiness. Top marks from me there.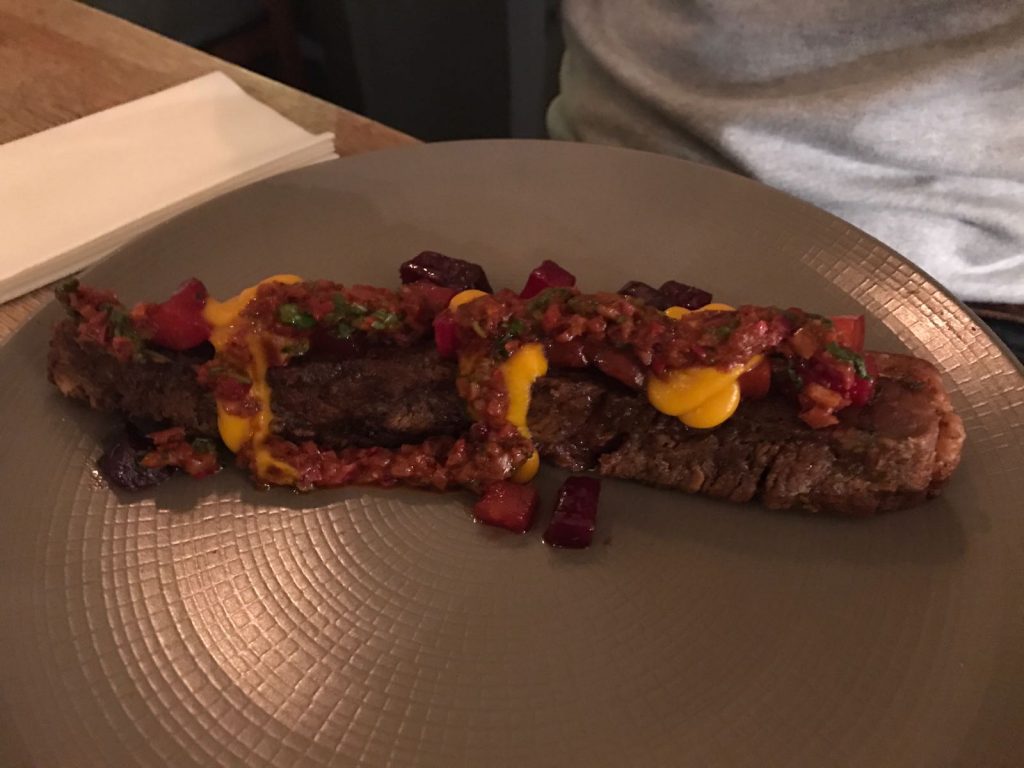 A shared goats cheese and aubergine ravioli came also perfectly cooked 'al dente' and was loved by all. The butteriness was lush. Nice choice absent friend!
Karl opted for Monkfish. It was a well cooked, lovely fish but came on a bed of grain which made the dish look stodgy. It also had too many components, with thyme twigs and clam shells left in. Could be better refined and was a disappointment… the phrase 'fish out of water' comes to mind.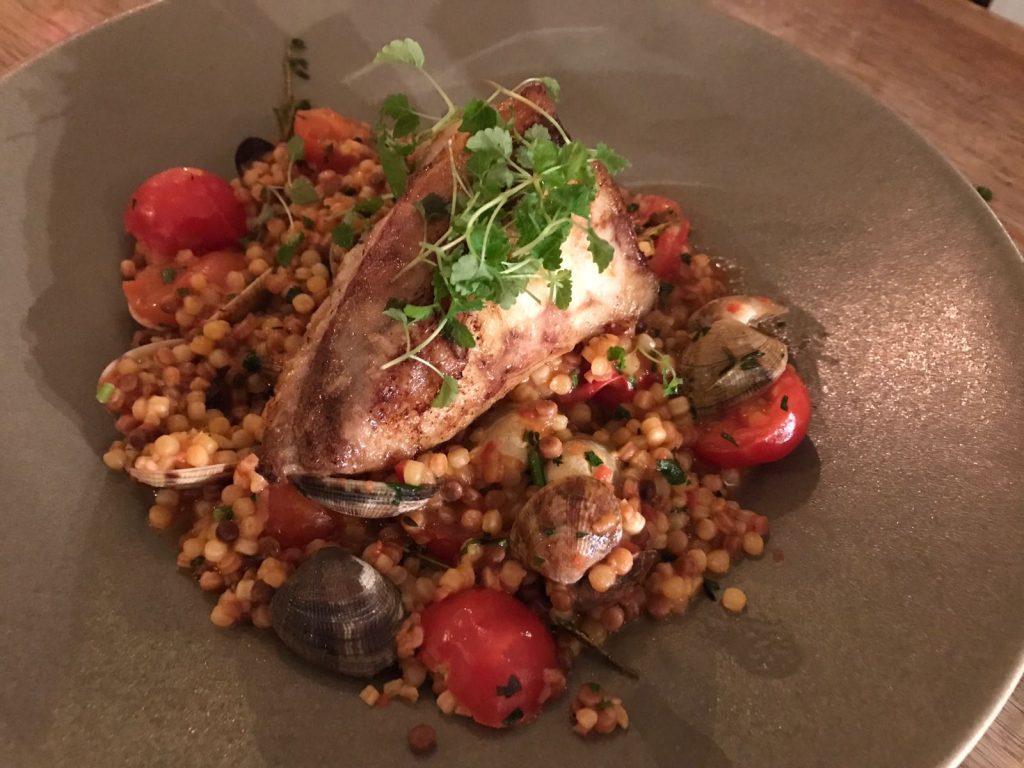 DC's Braised Lamb was lovely, especially when he realised the shared jus was also his for sharing! Pretty dry otherwise!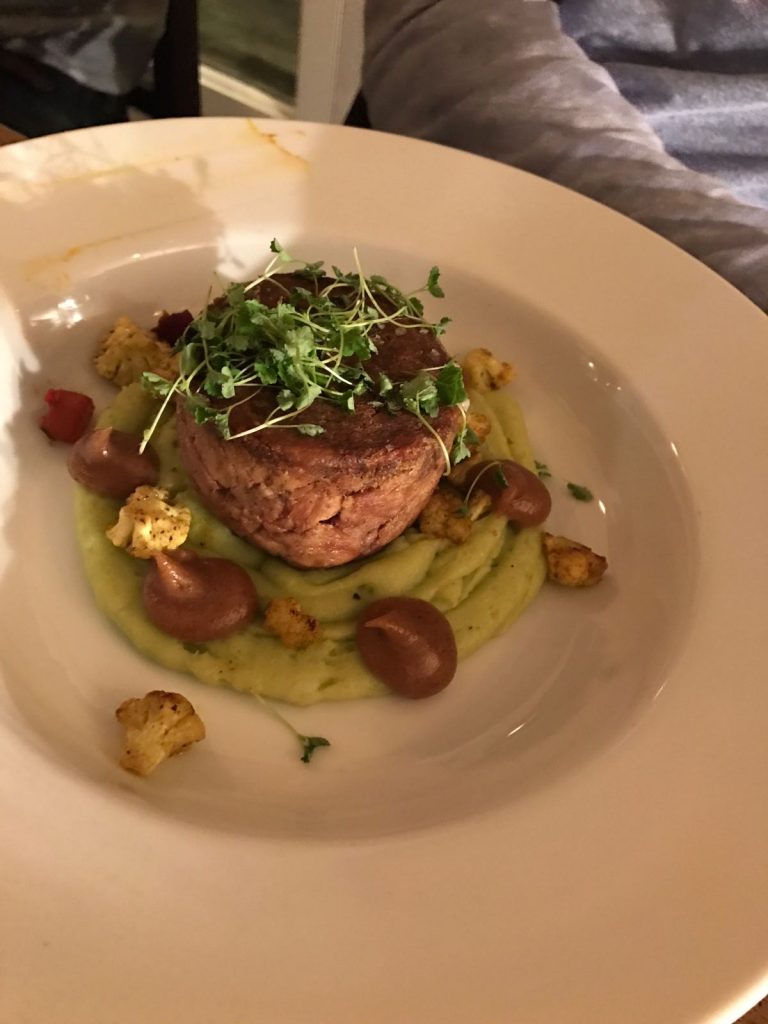 All night I had been eying up the cheese board, easy to say 'Karl's tart' here but I won't. The sweets sounded devine however and we all forgot about the cheeses.
A few of us ordered the Hazelnut Parfait with salted caramel ice cream, which was delicious in my humble opinion. Some people were underwhelmed by it but not here… I did offer to finish theirs but clearly against their will they still finished it!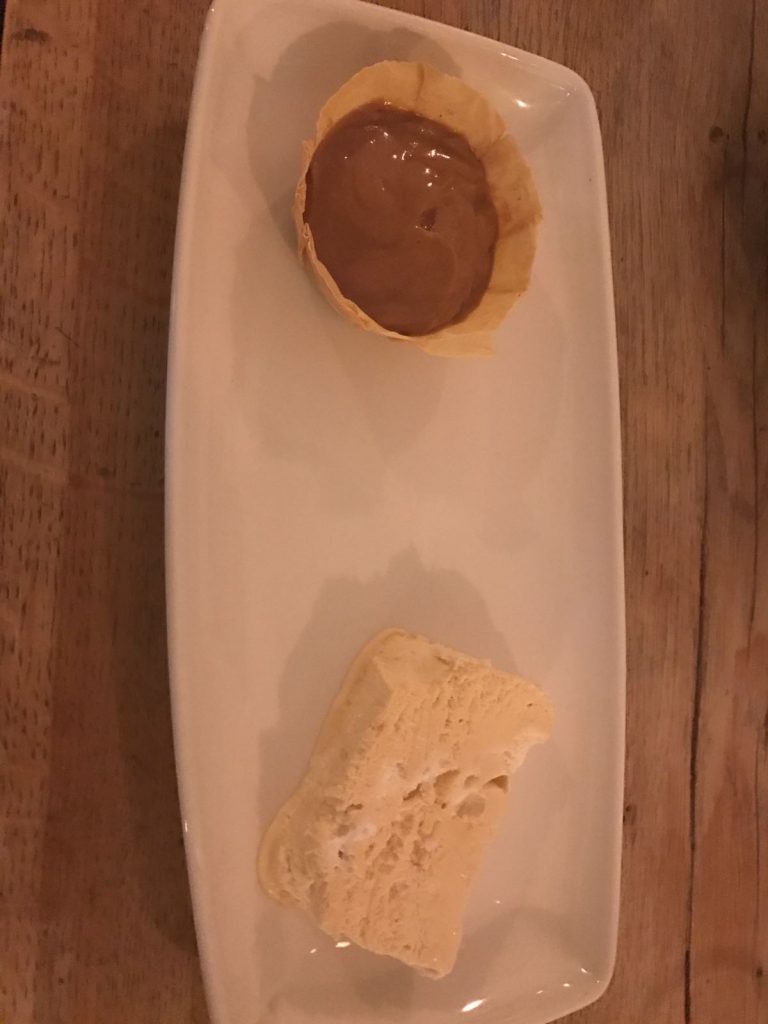 The Dark chocolate mousse I again thought was lovely but DC thought it was too rich. I loved the nuttiness in it personally. Really good.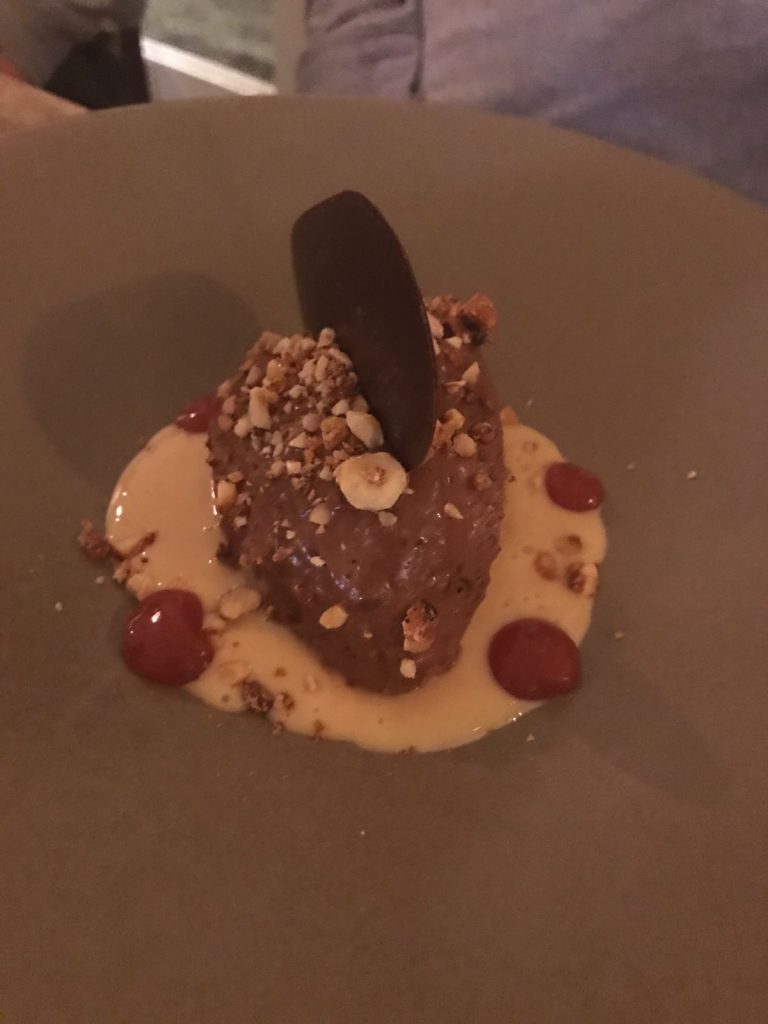 At this point I started the age old debate of comparing apples with pears. This wasn't a Michelin Star Mayfair haunt, and as such the food was possibly the best I've eaten in a pub. However if going like for like, which for scoring purposes I guess must be taken into account, it loses points in some areas like portion sizes, hard chairs!, bits and pieces…… but being reasonably priced…. if in Earlsfield…. do go…. as, unless your friends of a food blogger, you won't be disappointed.
http://www.thejollygardeners.com/
214 Garratt Lane
London
SW18 4EA