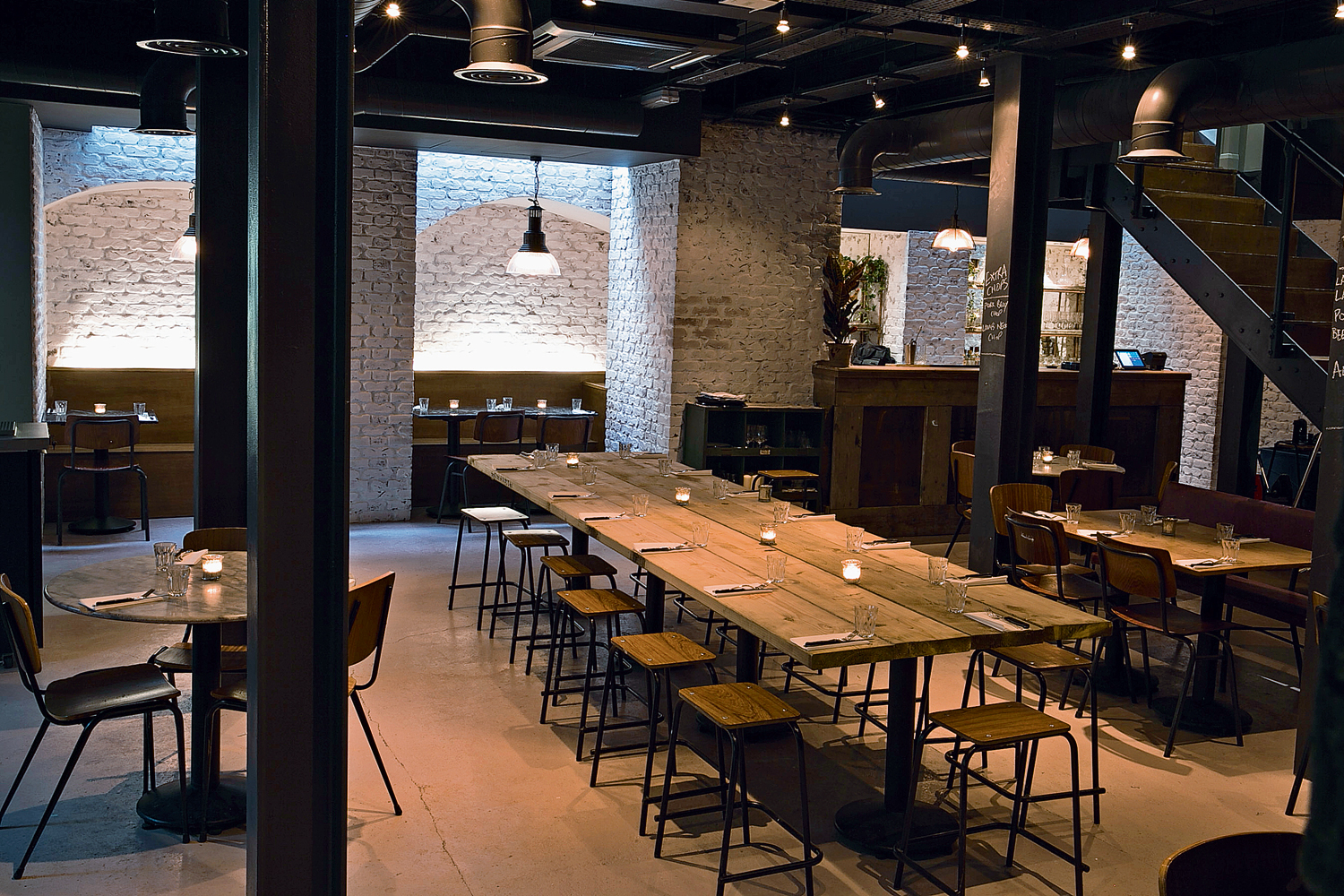 Blacklock
Visit Date: 29/09/2016
Score: 41/50
With everyone having busy schedules currently we have waited too long for another BTNDC! Fortunately this one didn't disappoint. Although it also means I'm writing this some 2 weeks later – so apologies Blocklock if I don't do you justice in my write up.
Fronted by an undistinguished entrance, you are immediately led downstairs to the basement seating area. Loud, busy, cram packed, it doesn't look particularly enticing. Looks aren't everything…. not with restaurants anyway!
Did I say it was loud? So loud the waiter and I couldn't hear each other….. fortunately Shaf knows sign language for ordering wine and beer!
Did I mention it was busy? So busy the drinks must have taken 20 minutes at least. Not great but we ordered another round in preparation in between to follow!
We had also ordered at some point our first two courses and began with three different 'pre chop bites'. The 'cheese & pickle' …. as it says, blue cheese with pickle on a cracker…. was ok. 'Duck Rillette & Apple' again on a cracker was apparently pretty good. The 'Egg & Anchovy' on a cracker was everyone's favourite because apparently it wasn't 'too fishy'! Thanks Bill.
By now probably an hour had passed and it was around 9pm. We had booked somewhat fortunately, as there was now a queue waiting, going back up the stairs out to the street. Which led me to a conclusion…. the best was yet to come…..
Ordering 5 'All Ins' meant a mountain of different chops and meats stacked together in the middle…. no point describing it much further as it was a lot, they all were great, and all got eaten. However possibly the best thing I've ever tasted lay underneath…. a wonderfully charcoaled flatbread which had been soaking in all the above meats naughty dripping juices…. a heart attack had never tasted so good! Worth returning for.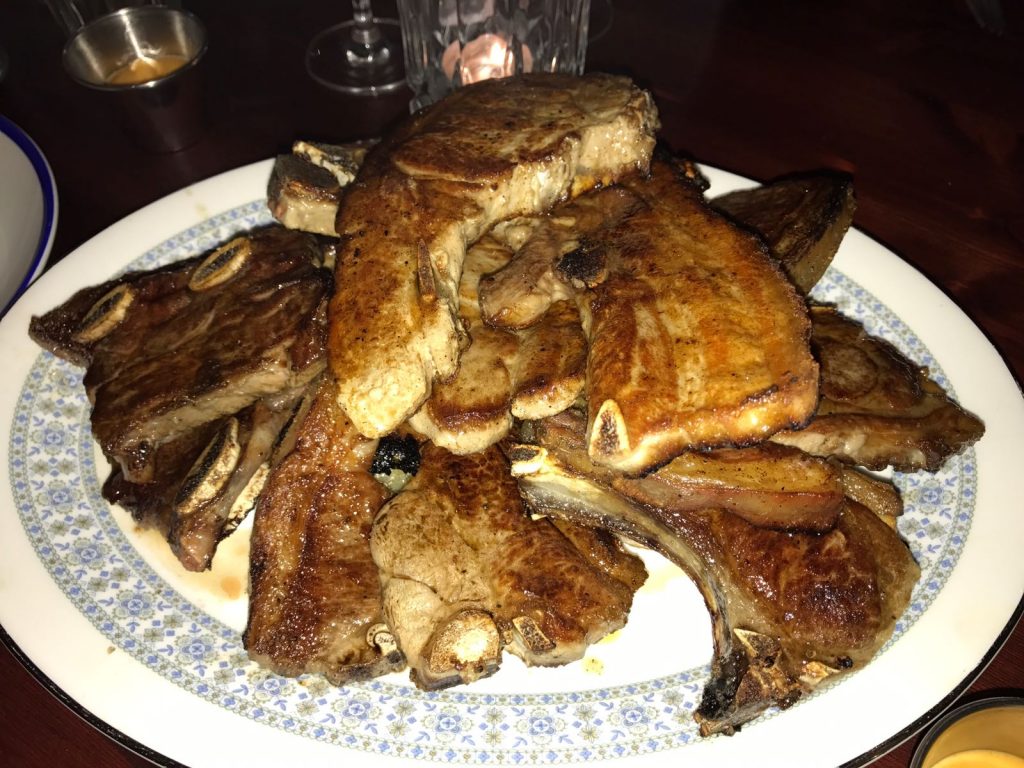 The sides and sauces were also exceptional with special praise for the chips and chill hollandaise. Really good. My one bug bare was, although sharing, that they didn't ask how we wanted our meat cooked. I understand that it's not fine dining and they are probably mass produced out back, but medium rare is not my cup of tea.
With a choice of only 10 cocktails we ordered all 10 and played cocktail roulette. Most were very good and there was something for everyone. The coffee one was my favourite…. a cross between an Irish Coffee and Christmas Pudding!
What sets Blacklock apart however is it's array of big manly chunks of meat on offer. So we went as big as possible.
1kg pork tomahawk.
1.2kg beef port house.
600g lamb Barnsley.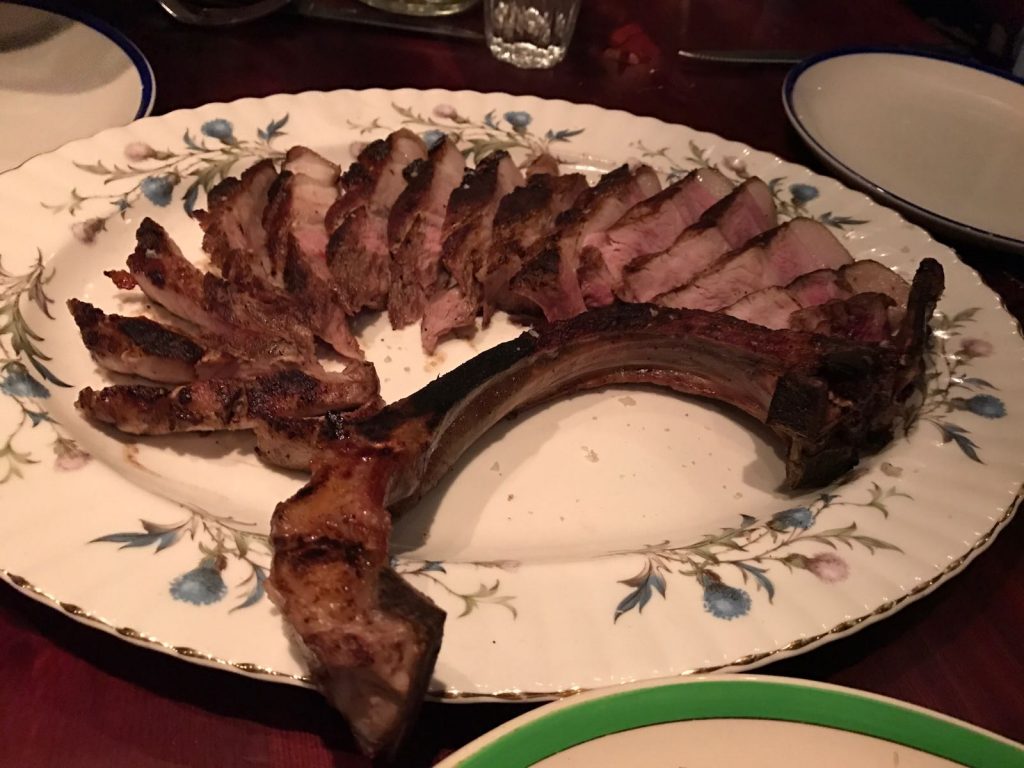 All were very good. Again utterly devoured including more delicious sides, especially the strawberry salad. A meaty success rivaling Reds True BBQ…..
The service had improved by this point and we were in full flow. Some complimentary white rum certainly helped!
Having eaten quite a bit only 2 decided on desert…. that's the only decision there was as there was only one to choose from… homemade white chocolate cheesecake….
2 ordered but 5 enjoyed as more portions were demanded! Wow. So good. Again worth visiting just for that!
A complete hit and we will be returning. Maybe a little rough around the edges and not comparable to a 12 course Michelin star offering…. some parts were so good however that they stand out long in the memory.
24 Great Windmill Street
Soho
London
W1D 7LG