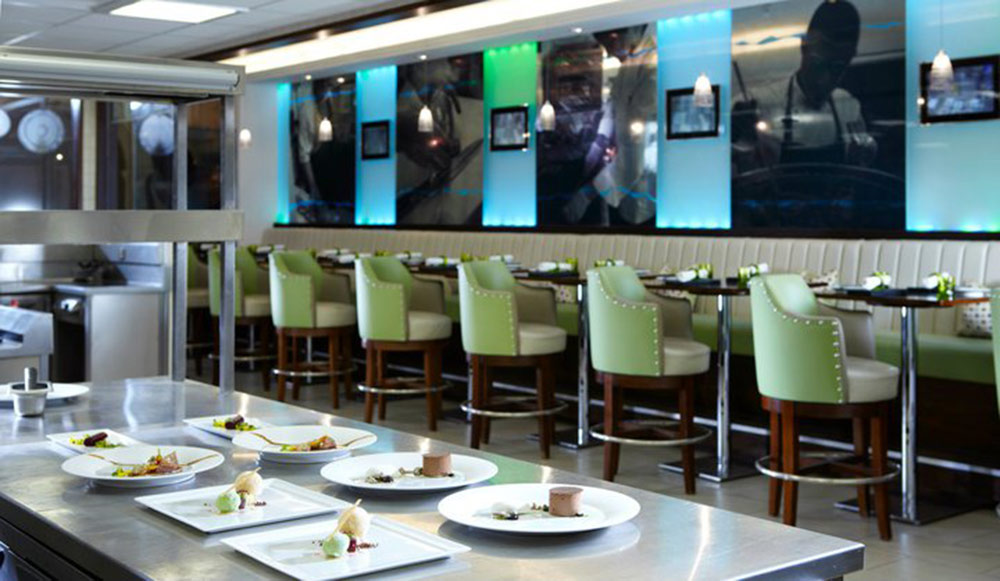 The Pass Restaurant at South Lodge Hotel
Visit Date: 08/10/2015
Score: 43.5/50
My choice again and with experiences outside London dominating the leaderboard, I chose a personal favourite that I knew would challenge for top spot. Set in the Sussex countryside, at possibly the finest retreat outside London – South Lodge Hotel, although we were all thinking that a golf course on the extensive grounds would be even more perfect!, is The Pass Restaurant.
With a Michelin Star, 4 AA Rosettes and a celebrated Head Chef regularily on TV, Matt Gillan, could it receive the highest accolade?…. The BTNDC seal of approval and maybe even top spot?….. But in true BTNDC fashion I had built it up so much that I was asking for trouble!
South Lodge is a grand building with so much to offer including The Pass; another personal favourite being their superb wine tasting tour in their well stocked cellar. On arrival everyone was initially impressed and after a friendly welcome we went to a well appointed bar in the heart of the hotel. One drink down however we decided to get lost finding the restaurant! With everyone hungry and now agitated, The Pass had to deliver! and swiftly!
But BOOM! First impressions were fantastic. With only 20ish covers it's an intimate restaurant, or actually more like an extension of the kitchen itself. Lucky enough to get the Chefs Table, we were virtually in the heart of the action, side by side the chefs' preparing their masterpieces for both the hotel's restaurants. The Pass's team were on my left in their solid black blue aprons, with Matt Gillan himself conducting his pitch perfect orchestra.
In a high-tech, modern setting, that is light years away from the classical bar we just got lost coming from, The Pass offers a chance to be on the set of a 21st century kitchen drama with all the action unfolding in front of your eyes. Their pride and professionalism was obvious but yet we could still chat with the chefs as they made their works of art.
We all chose the 10 dish taster menu with most of us having the accompanying wine flight. Mit responsibly chose the accompanying juice flight which initially we didn't really give a second thought about…. Well that was about to change and soon become the star of the show!
'Snacks' – dish 1 – 'wow' straight away! 4 mini works of art; the Pork Belly ball with pork scratching panco smashing it from the off! Why only one and why so small? Oh yes we have 9 more courses! English fizz was the obvious accompanying wine to lead the way but we knew something special was occurring when the juice flight frontrunner was Apple, Peach with Sage….. A concoction that got us all interested and left Mit with little once we had all tried it!
The second course was possibly, initially, the most overlooked one… Tomato, Celery and Seeds. How could 4 strapping young males (plus Mit) get excited by that? An analogy!?….. Average looking but cracking personality! The celery sorbet was divine and the dish was potentially our favourite. Washed down with a lovely fruity Pouilly Fume. Not to be overlooked this course came with personal individual mini loafs of warm bread, brown and white on opposing corners which looked magnificent. On the table were 3 different salts, a black strong volcanic salt from Hawaii, a grey more normal salt from Brittany and a pink clay based salt again from Hawaii. Simply superb and we were only talking about bread and salt! My first and only critique….. Need soft butter!
The inevitable fishy course was most people's 'hmmm I'll guess I'll try it course'. Cod, Artichoke, Salmon roe, fried squid with squid ink mayo and squid in powder. It was nice; of course we needed something fishy amongst the 10….. It was actually Bill's first try of 'mini explosions of fishy goo' that is sort of caviar. The 'homemade' juice flight – this time cucumber with a delightful sharp Kiwi finish, we learnt was our sommelier's passion. He lost me during his explanation of his own techniques in making these, like he lost the table with an earlier nervous joke about Darwin and evolution (which probably says more about his audience rather than him!) but however he made them…. He made them well. All I remember is him spending 2 hours hand filling individual tea bags with the various herbs, and then letting them diffuse at various stages in the juices. Well we were going to enjoy the fruits of his labour…. Pun intended!
Next up was beef tartar with a crispy fried hens egg. However before I gave my plate to Dave to eat for me, I had the nitrogen frozen lime pellets accompaniment…… Awesome! Have to get me one of those nitrogen things! The paired wine was the subtly named 'KungFu Girl'…… With that petrol aroma I was in love and I'd let it kick my butt anytime….. Mental note…. Find her again.
Time for the favourite although again not heavily backed initially. Cauliflower, almond and Gruyere cheese. Aka posh cauliflower cheese! "Amazing" "Smashed It" "very different to the one in supermarket packets!" were some of the comments….. Truly scrumptious especially when you had an onion slice explode in your mouth taking your palate by surprise. Served with a drop of 'Gnarly Head Viognier 2013', and for Mit an Apple, Citrus and Chamomile blend, the dish was a complete success.
Halfway into the meal, everyone was eagerly anticipating every next arrival, with talk of a possible challenge to our current BTNDC leader. The chefs continued to work diligently in the kitchen, although they personally brought every dish to us, including Matt Gillan himself, and every one came with a thorough and passionate description of the processes and ingredients involved as well as anything else worth noting. Likewise our sommelier kept us interested and thirsty for more with his wine and juice epiphanies. So far so good!….. I was quietly confident.
Huge King Scallops were served next but I wasn't a fan of the lentil paste nor the miso. The clear winner of this round though was the juice again…. Pineapple and Saffron! Why didn't I think of that combination? With the sommelier clearly now feeling at home with us, he proudly brought out his little black book. The first 50 pages of which were filled packed with his juicing secrets. The final four pages used for girls numbers, which looked surprisingly empty!!??
Next was my personal favourite; Partridge, Jerusalem Artichoke with raspberry. To be fair you could give me raspberry with anything and I'd love it, but the sharp sweetness of the raspberry complimented the dish superbly. The crisp artichoke casings looked like a discarded caterpillar chrysalis (thanks google!) but tasted better I think, and just added to the lushness of the dish. I wasnt a fan of the Bulgarian red that we were served with it but again who cares when Mit had Beetroot, Lapsang Souchong (thanks for printing these off Alex!) and apple… Which was the first he didn't like (oh well it wasn't left!) so then had butternut squash, plum, ginger and cinnamon. I mean, like, I couldn't make that up! Who thinks to mix them together? Step up Alex our sommelier / juicing expert! Take a bow.
The necessary cheese course was a small ball of the extremely pungent and potent Fourme d'Ambert. Weirdly lovely and a tasting menu requirement. Although two days on I think Bill is still tasting it now!
A Gingerbread, Yuzu, White chocolate creme brûlée was the penultimate dish and again left no disappointment. Extremely tasty and it was only now I had a moment to realise how hard the kitchen were still working. Each chef was cleaning their surface and area with enthusiastic zeal and pride, and as if that particular instrument they had just finished using had been passed down and cared for for generations, and would continue to be their family's prized heirloom. It was a pleasure to watch and have participated in their show.
Finally was a peach and almond marzipan mouse thing. Together with the sweet wine this wasn't the perfect ending but we were already passed that and extremely satisfied with our night to date.
We passed on our personal thanks and praises to the kitchen and retired to some comfy seats for coffees and petit fours, which continued the excellence. We all had had a superb, tasty night with some culinary masterpieces, a few alcoholic drops of noteworthy mention and an introduction to juicing with a juice flight that everyone must try.
A huge thanks to everyone at The Pass for such a wonderful night. We will definitely be back!!
http://www.southlodgehotel.co.uk/EXCLUSIVE_HOTELS/eating_and_drinking/the_pass.aspx
South Lodge,
Brighton Road,
Nr. Horsham,
West Sussex,
RH13 6PS
01403 891711